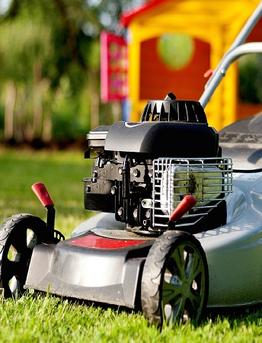 Do you have a huge lawn or are you in the landscaping business?
A commercial lawn mower may be just what you need. As opposed to residential lawn mowers, commercial-grade lawn mowers are built for the long haul. They can withstand daily heavy use over a long period of time, unlike residential lawnmowers. If you have large areas to mow, using a residential lawn mower won't cut it, you need the big guns for such a job. Below are some tips you can use to choose and buy the best self-propelled commercial lawn mower.
Consider your needs for your lawn mower
The type of lawn mower you are going to buy will ultimately be determined by what you need it for. If you are buying one for home use, you will not need the same lawn mower that a professional landscaper will choose. Generally, 18''- 20'' push mowers will suit a block size of up to 750 square meters. 750 to 1000 square meters will require a mower 20'' to 22'' mower. Anything over that and you are getting into the ride-on mower range. If you are a professional that mostly deals with private residences, opt for a push mower and, or a small ride-on that gives good visibility as you mow.
If you need a commercial lawn mower for rural properties or public areas, it is best that you choose a larger zero-turn lawn mower. This will save you time and manpower. For sloped or hilly properties, opt for hydro walk-behind lawnmowers that are easy to maneuver on uneven terrain. If you have many clients with different needs, you may need to invest in one of them.
Consider the level of expertise you have
Before you go ahead and buy the latest lawn mower with cutting-edge mowing technology, consider the level of expertise that you or your mowing crew have. There's no point in buying expensive equipment that no one can use or that won't be used appropriately and will end up breaking down often. Consider the lawn mower's ease of use, precision, and visibility.
List the important features you want
This is the fun bit for most people. New lawn mowers that are available on the market have many features that may sound tempting. Do not be lured by unnecessary functions that you will not use. Features to focus on are, ergonomics (how comfortable the lawn mower is), the look it has, and how easy it is to handle. If you get one that ticks all these boxes, you're good to go.
Go ahead and buy one
With all the above in mind, you are now ready to choose a brand-new commercial lawn mower. There are many brands to choose from that make powerful and durable lawn commercial lawnmowers. Husqvarna, Honda, and John Deere all have a variety of lawnmowers you can choose from. Make sure you buy from a reputable reseller that offers a warranty and available spare parts for their products.
At TP Outdoors we have many commercial lawn mowers you can choose from. Can't find something you want? Get in touch with us today.
Apr 15, 2020

Category:

News
Comments: 0